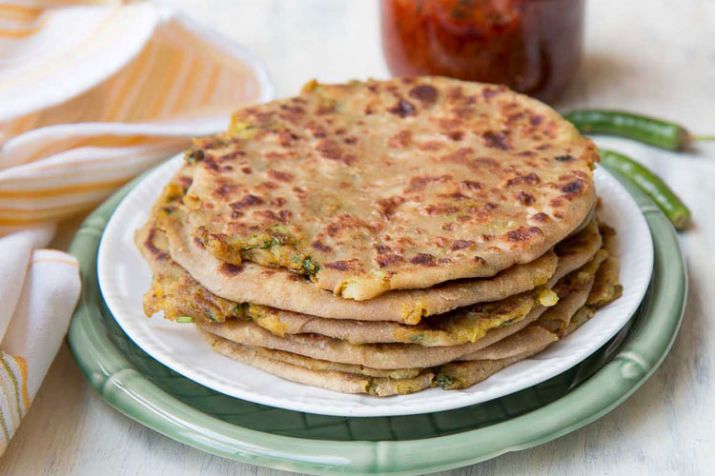 Apart from being a household start and breakfast option for Delhiites, paranthas are also a street specialty. From a plain salt base to stuffed options, this Indian bread is can be both an accompaniment or a main.
Ingredients
For Dough
Wheat Flour / Atta - 2 Cups
Salt - 1 Tsp
Ghee - 1/2 Tbsp
Water - 1 Cup a little more than 1
For Filling
Boiled Potatoes / Aloo - 3
Salt - 1.5 Tsp
Green Chillies - 6
Red Chilli Powder - 1 Tsp
Dry Mango Powder / Amchur - 1/2 Tsp
Garam Masala - 1/2 Tsp
Cumin Powder - 1 Tsp
Dhaniya / Cilantro - 5 Tbsp
Oil to Shallow fry.
Instructions
Dough Prep
In a bowl, add Wheat flour and Salt. Mix well.

Add Ghee and mix.

Now add water and knead for 4 to 5 mins till the dough is kneaded properly and is soft.

Keep Aside
Aloo Filling
In a bowl add potatoes and mash them.

Now add all the spices and cilantro.

Mix well keep aside
Paratha
Take a medium sized ball from the dough. Apply the dry flour on properly so that it doesn't stick when rolling.

Now roll it into a medium sized thick disc.

Take about 4 Tbsp of potato filling and put it on the center of the dough disk.

Lift it and start joining the edges together to seal it into a ball.

Flatten it between your hands and the apply dry flour on both sides.

Roll it into a medium thin disc. The paratha disc should not be too thick otherwise it will not cook properly.
Parathe wali Gali Style
Take enough oil to in a frying pan or Kadai (wok) to shallow fry the Paratha.

Heat it to 380 F to 400 F.

After the Oil is heated, add the Paratha to the oil and fry for few minutes.

Then turn the paratha and fry again for few minutes. You need to fry till its golden brown on both sides.
Credits:dhabastyle.com
0 Comments