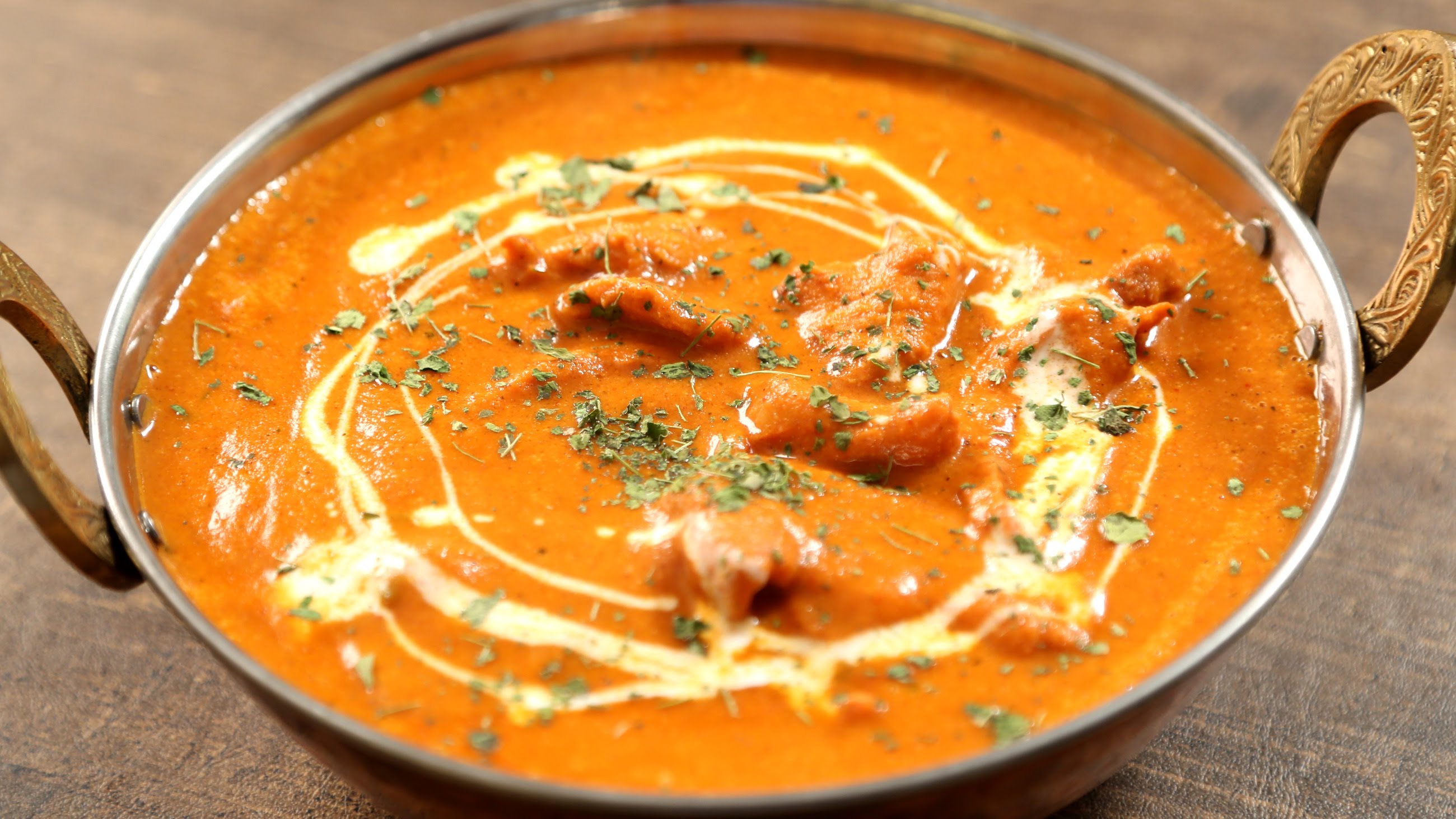 Introduced in Delhi in the year 1950, this celebrated delicacy is one of the most popular dishes of the capital. Popularly known as Murg Makhani by tourists, this creamy delicacy blends in just the right notes of spice with cashew nut paste to bestow the food lovers with one of the best curries.
Ingredients
Butter - 2 Tbsp
Oil - 2 Tbsp
Bay Leaf - 2
Green Cardamom - 10
Mace / Javitri - 2 Flowers
Garlic - 2 Tbsp
Tomatoes - 8
Marination
Boneless Chicken Cubes - 400 gm
Ginger Garlic Paste - 1Tbsp
Salt - 1.5 Tsp
Red Chilli Powder - 1 Tsp
Turmeric - 1/4 Tsp
Roasted Cumin Powder - 1 Tsp
For Gravy Part 2
Butter - 2 Tbsp
Green Chillies - 8
Ginger - 2 inch Julienned
Kashmiri Red Chilli Powder - 2 Tbsp
Salt - 2 Tsp
Garam Masala - 1 Tbsp
Heavy Cream - 1/2 Cup
Honey - 3 Tsp
Kasoori Methi / Dry Fenugreek Leaves - 2 Tsp
Instructions
Marinate Chicken
In a bowl take Washed Boneless Chicken Cubes.

Now add the Marination Spices. Ginger Garlic Paste, Salt, Red Chilli Powder, Turmeric and Roasted Cumin Powder and Mix well.

Now Refrigerate it for 30 minutes
Pan Fry
In a Shallow Pan on medium flame take some oil. Once the oil is hot add chicken pieces one by one.

Fry on both sides till well done. Take a piece and cut to make sure chicken is cooked thoroughly.
For Gravy
In a Large pan on medium to high heat add butter , oil, Bay Leaf , Green Cardamom , Mace and Garlic. Keep stirring so the butter doesn't turn brown.

Cook till Garlic is starting to cook.

Now Add Tomatoes to it, Cook them till tomatoes are cooked and soft. You may also add a bit of salt to speed up the cooking of tomatoes.

Turn the flame off and let the mix cool a bit.

Now transfer this in a grander and make it in a fine paste and keep it aside.

Now in the same pan take some more butter, Green Chillies, Ginger and cook till raw aroma of Ginger goes away.

Now in a fine mesh strainer, Strain the Grinded paste. Take a spoon and move it in circular pattern in the strainer to push the paste through. There eill be some tomato skin left in the strainer. You can discard it.

Now add Kashmiri Red Chilli Powder, Salt, Garam Masala to the the gravy and mix well.

Now Add Cream , Honey and cook for 2 to 3 minutes. You can also add water at this step if the gravy is too thick.

Add the Pan Fried Chicken Peices, Kasoori Methi to the Gravy and mix well.

Cover the pan with a lid and Cook on Medium flame for 10 minutes.

Garnish with Cilantro and Serve.
Credits:dhabastyle.com
0 Comments