Zardozi – Gold Embroidery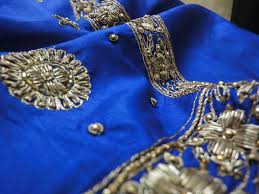 Zardozi means Gold Embroidery in Persian. Of Persian origins, this craft was brought to India by the Mughals, whose patronage helped the craft to flourish. All royal attire and furnishings were embellished by Zardozi work.
This craft involves making intricate designs with gold and silver metal wires, cords, sequins on expensive fabrics like silk, velvet or satin. Today the craftsmen use copper wires with gold or silver polish and silk thread for economic reasons. They use a big frame on which the fabric is laid and a hooked needle called Ari for sewing the metal wires.
An elaborate Zardozi work done on coats, dresses, furnishing, shoes is called Zardosa, whereas a lighter work done on scarves or fine muslin is called Kamdani.
Production clusters: New Delhi
Products: Dresses like Salwar suits, Lehenga choli, Ghagra, Sari, Achkan
Handbags, Shoes, Ccarves, Decorations, Furnishings, Curtains, Lampshades, Bed covers, Pillow covers
Tools: Needle, a big Frame
0 Comments